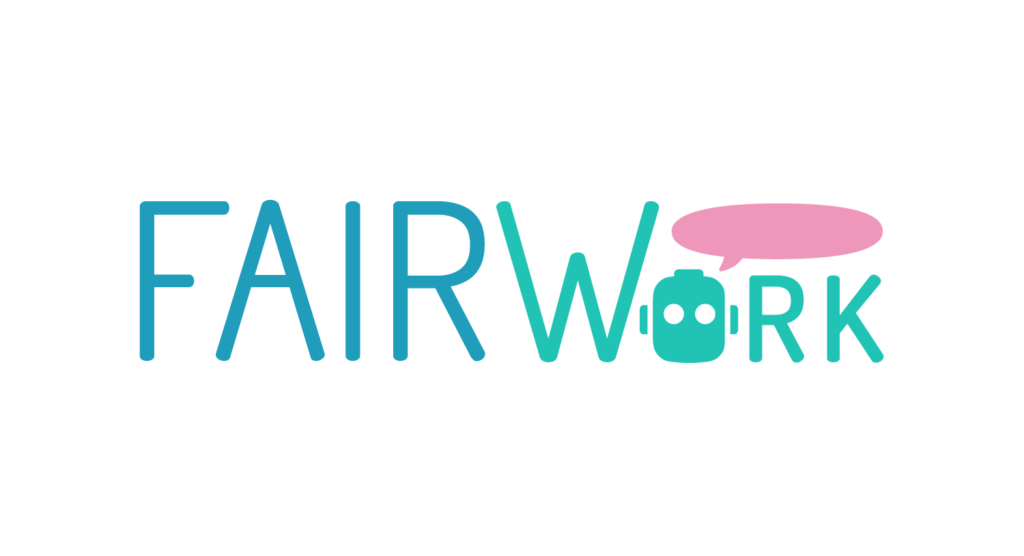 Identification & Background:
Project title: FAIRWork – flexibilization of complex Ecosystems using Democratic AI-based Decision Support and Recommendation Systems at Work
Region of intervention:No. 101069499
Main objkective: FAIRWork project provides a decision support system that integrates digital twins to optimize the overall production process according to multiple parameters, and democratizes decision making granting human workers and machines a say during decision making. Each demand is consolidated to achieve decision support, which is optimized.
Region of intervention: 5 European Union countries including Austria, Italy, Romania, Germany, Portugal, and one partner from Norway.
Benificiary entities:
BOC Products & Services AG – BOC Products & Services AG (Project Leader)
Jotne – JOTNE EPM TECHNOLOGY AS
CENTRO RICERCHE FIAT – CENTRO RICERCHE FIAT SCPA
Flex – S.C. FLEXTRONICS ROMANIA S.R.L.
Flex Althofen – Flextronics Internation GmbH
RWTH AACHEN – RHEINISCH-WESTFAELISCHE TECHNISCHE HOCHSCHULE AACHEN
JOANNEUM RESEARCH – JOANNEUM RESEARCH FORSCHUNGSGESELLSCHAFT MBH
OMILAB GGMBH – OMILAB GGMBH
MORE – Mountains of Research Collaborative Laboratory
Approval date: 2022-03-11
Start date: 2022–09-01
Conclusion date: 2025-08-31
Total eligible investment: 2.979.375,00 €
Financial support of the European Union: 2.979.375,00 €
Improve Flexibility: Enabling decision support in more complex and timely situations and considering the consequences of decisions.
Raising the competence of decision support by involving humans and AI interpretation together with digital shadows and twins and data. Hence, the uncertainty of decisions is reduced.
Strengthening the perception of trust and fairness as stakeholders cooperate in decision-making or rely on self-calibrated and therefore approved mechanisms.
Strengthening the Effect of energy efficiency, as energy relevant parameters can be treated during decision support.
Reduce stress situations caused by unforeseen events as several predictive simulations are performed in advance.
Improve optimisation of multiple parameters to reduce time, costs, energy consumption by equal or better quality.
Improve reliability and compliance: Legal, business, social, energy regulations are built into decision-making.
The activities are organised into eight Work Packages (WP) described below:
WP1 – Project Management;
WP2 – Specification of FAIRWork Use Case and DAI-DSS Prototype;
WP3 – Research on DAI-DSS;
WP4 – Development of DAI-DSS;
WP5 – Demonstration of FAIRWork at Use Case Site;
WP6 – Evaluation of FAIRWork;
WP7 – Communication, Dissemination and Training.
WP8 – Exploitation and Sustainability.
Democratic AI-based Decision Support System (DAI-DSS):

DAI-DSS – Orchestrator for complex process optimization which can added-on to existing legacy system.
DAI-DSS – Configurator moddeling processes and decisions for transparency and central management.
DAI-DSS – Knowledge base enriching legacy systems.
DAI-DSS – AI enrichment: Collection of AI-based algorithm for optimization, autonomous negotiation and prediction, which can be individually adapted and used.

Method and Tools toward FAIRWork:

Method and Guidelines to asses and approve AI to aiming for Trustworthiness, which will be integrated in the DAI-DSS configurator but can also be used in other tools.
Process-Based Decision Models for multiple input parameters in form of an open specification to enable the re-use independently of the DAI-DSS realisation.
Models and Concepts to integrate AI, Data, Human and Robots in form of publications, reports and data to archive the results in an open, royalty-free way.

Avenida Cidade de Léon, 506
5301-358 Bragança
+351 300 081 998
+351 300 081 999